(Note: This letter was posted several
years BEFORE Senator Kennedy's death.)

Dear Senator Kennedy:


I would like to tell you a short story, make a request, and
also let you know of my concern for you & your health.


Just before World War II there was this certain guy who
graduated from high school in the Washington, D.C. area
that you later would meet - unfortunately for you - who went
to Canada (not as a draft dodger) and joined the RCAF to
learn to fly.


War broke out shortly after that and he came back home
and joined the USAAF (predecessor of the USAF) and was
ordered to be Captain of the biggest bomber at that time -
the B-24.

Some time later while stationed on a remote island in the
Pacific, Japanese
guerrillas
in the dark of night sabotaged
the instruments of several planes so that all would become
ineffective shortly after takeoff - essentially dooming the
crews and their planes. As it turned out, the first sabotaged
plane to take off that day was the young bomber pilot's
B-24 that one day fate would bring you both together for
a very brief moment.




This pilot took his crippled bomber to an altitude that the
crew's parachutes would open and ordered everyone to
bail out after the bomb load was dropped over the Pacific
and other bombers waiting takeoff were ordered not to
leave perhaps saving many American lives. Then single
handily he flew his plane for hours until the fuel was low
enough to make an emergency landing without instruments -
thus saving all crew members and his bomber.



After the war, this pilot went to work for Eastern Air Lines.
On one of his flights a man rushed into the cabin with a gun
shouting that this flight was going to Cuba but he was surprised
to see the captain (our former B-24 pilot) with a loaded German
Luger pointed directly at him. Needless to say, the 727 didn't
go to Cuba and the man was arrested by the FBI at its next
regularly scheduled stop - bound & gagged.

Sometime later, an intoxicated passenger with an open bottle
of whiskey tried to get on board his flight in Boston. This
passenger just happened to be a new freshman Congressman
but the pilot asked the Congressman to give up his bottle (as
prescribed by Federal Law) and when he refused was forcefully
ejected from the flight. As it turned out, the new congressman
was you and that pilot was my Dad. I don't know if you tried
to call his boss and get him fired but if you did, Captain Eddie
Rickenbacker would have hung up on you in an instant! Real
men were like that in those days.
I'm telling you this because my Dad & Eddie Rickenbacker
are not the type that you and some of your compatriots in
Congress approve - the tough independent American citizen
who rose up from lowly status to make something of them -
selves without government subsidies.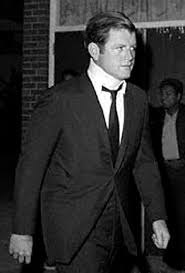 Your neck brace worn only
during press conference
the next day.
Your record in congress has been a miserable one. Included
in that would be the death of a young college girl you were
dating (even though you were married) who died when you
were intoxicated once again and you left to perish in a submerged
automobile and didn't call for help until the next day while you
worried with friends about your career. You are the only Kennedy
not to have graduated from Harvard because of a cheating
scandal.


You have advocated for years the killing of millions of American
babies lives and almost always voted against our military. Was this
because you met real men like my Dad & Captain Eddie and knew
you could never measure up to them or because you realized at
some
point that your family fortune was made illegally?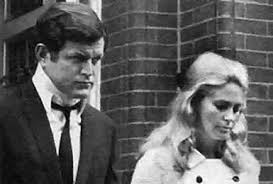 You & your cheated wife.
My request is not a difficult one for you - please resign your
seat
in the Senate and spend the rest of your time contem -
plating where
you will spend eternity! One day you will come
before the Judge
of the Universe and be asked what your
relationship was with His
Son. Nothing else will matter then -
not family name, church member -
ship, wealth, status in
Washington or anything else.
I'm really concerned about you (and ailing Senator Byrd also -
formally of the KKK) and your wellbeing - so much so that I will
be praying for you often and just to help you out - I'll tell you how
to be ready for that future court date with you Maker. Just check
the
"comments" and I certainly hope & pray that you will be ready
& forgiven!
Sincerely,
Professor Howdy
P.S. I pray that you might accept this in a similar manner that
an ancient
King named David was challenged by a prophet
named Nathan. Oh, if any
of the above is inaccurate - please
let me know.
King David & Nathan